It doesn't seem like a fair fight. After all, how can you compare a group that's comprised of a bunch of numbskulls — stooges, if you will — that aren't grounded in today's reality against…The Three Stooges? (See what I did there?)
I recall the nights I fought to stay awake as a kid, to make it through late evening programming which included the local news, my favorite game show ("Make Me Laugh"), and a hilarious helping of "Benny Hill."
It all led up to an hour of "The Three Stooges," which would feel sacred: The Stooges had arrived, alive in glorious black and white, and ready to entertain with their latest shenanigans. Just me and the warm glow from an old picture tube lighting up an empty room.
Let the joy and laughter begin!
Even watching the opening credits was an adventure, waiting to see whether it'd be a Curly or Shemp episode.
I gotta say, though Curly is the undeniable favorite, I do have a soft spot for Shemp. One of my favorite Stooge shorts – "Who Done It?" – is a Shemp episode. Classic lines like "The niece is nice!" and "My furniture, be careful!!!" still crack me up.
When I was younger, I simply accepted Stooge film shorts for what they were: nearly half an hour filled with slapstick hilarity and wackiness. It wasn't until later in life I truly appreciated all the hard work they put into making these shorts.
The Stooges are more than just slapstick comedy!
There are so many other fascinating aspects beyond what the finished product you saw onscreen – from the serious injuries they suffered during filming, to health setbacks and tragedies, to the lousy deal the Stooges had with Columbia Pictures. They were grossly underpaid, weren't given residuals, and couldn't get out of the awful contract that lasted decades.
On the bright side, we have the wonderful legacy they left behind, which goes to show that though they made it look easy, these were very talented actors who were dedicated to their craft. The end result is so timeless, so unique that I don't believe it can ever be duplicated. Try as they might, no one will recapture that Stooge magic.
I still watch heavily edited early morning re-airings of Stooge shorts on AMC and feel the same joy I felt during those late-night viewings as a kid. Lights out, Stooges on. It takes me right back.
Nowadays I notice a lot more of the finer details revisiting the shorts. For instance, there are a lot of instances where stuntmen were used for the Stooges. And it's not like you'd blink and miss it. It's so blatant sometimes that it's funny in and of itself.
But one of the things that bring PURE JOY when watching the Stooges these days is catching bloopers, even cracks-ups — basically anything that reveals a rare glimpse of them out of character. I never noticed these things back in the day. Not only does it add a whole new perspective to the viewing experience, it also humanizes these great actors I simply considered "stooges" back in the day.
Not-so-subtle bloopers did indeed happen, and they're SO much fun to catch. Back then, budgets were tight and filming schedules were short, so it's understandable they kept them in the finished product.
For hardcore fans of The Three Stooges, it's bliss to catch things like:
Larry Fine completely cracking up and breaking character in the short "How High Is Up?" (at the 6:02 mark, right before Curly says, "Don't mind me!") where he and Moe attempt to remove Curly's sweater with a mallet and chisel. Obviously, Moe's final hit to Curly's head was all Larry could take before beginning to laugh out loud (yes, you even hear it). On a side note, after watching this scene numerous times, I'm convinced straight-faced Moe was about to crack up too, smirking and turning his head away from the camera before the scene abruptly cuts. Moe also accidentally falls a bit later in the scene (at the 6:35 mark) and says an unscripted "Thanks" to Larry who helps catch him.
When one of the governor's men enters the scene in "Back to the Woods," (cued up at the 7:25 mark) to update the group, and watching Larry react by biting his lip to keep from laughing and slightly turning away from the camera. All the while, Curly seems to sense Larry's moment of weakness and begins to contort his face to keep from laughing so he remains in character.
The lovely Christine McIntyre doing her best to not start laughing after Shemp drinks poison and begins to flip out (literally!) in "Who Done It?"
Larry forgetting to take his shiny wedding ring off in the short "Stone Age Romeos." (for example, at the 4:40 mark)
I never noticed these kinds of things as a kid. The Stooges were always just, well, The Stooges. It was almost unfathomable to picture them out of character. Now I search these things out, and finding them makes the viewing experience all the more personable and special.
It's also intriguing to watch Stooge scenes that originally seemed so simple and innocent yet carried a much deeper, more serious backstory.
Some examples:
On the surface: In the short, "Bedlam in Paradise" (at the 13:36 mark), a fountain pen went right into Larry's forehead. Hilarious!
Reality: The stunt went wrong – the pen actually punctured and stuck into Larry's forehead.
On the surface: In the short "Pardon My Scotch" (at the 3:24 mark), Curly and Larry sawed through a table Moe was standing on and he falls right through it. Those klutzes!
Reality: Moe's fall was real. He broke several ribs, but still had the will to get up off the floor, say his line, and double-slap Larry and Curly…right before collapsing after the scene cut. I also find it so interesting to watch Larry's immediate look of concern when Moe hits the floor HARD, as if he's not sure whether to break character and help Moe or keep the scene going.
On the surface: That silly Curly! He looks skinnier and seems so much more mellow in some of his later Stooges shorts!
Reality: Poor Jerome "Curly" Howard suffered several strokes in his final Stooge years, and it's pretty evident in some of his performances, such as in "Three Loan Wolves." His speech and movements are noticeably slower. Even his trademark high-pitch voice mostly registers much lower.
On the surface: Look at wacky Shemp! Why does he keep looking away from the camera and blocking his face in some scenes?
Reality: Shemp died before some of his shorts were completed, so a lookalike "Fake Shemp" was used to fill in for those remaining scenes. One example is the short "Rumpus in the Harem" (at the 13:01 mark). The Stooges were obligated to fulfill their contract and had to do it one way or another (remember that lousy contract I mentioned?). I wonder how difficult it must have been for Moe, who had already lost his brother Curly, to also lose brother Shemp and have to pretend he's still interacting with him through a Shemp lookalike. They also recycled old scenes from previous shorts to fill gaps whenever possible.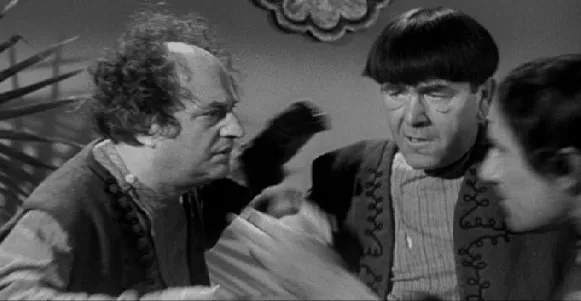 And those are just some examples.
Of course, there were the later Stooge years with alternates Joe Besser and "Curly Joe" DeRita filling in. (Are they the Kylie and Kendall Jenner equivalents for the Stooges? Oh, nevermind.)
I also recall The "New" Three Stooges cartoon series that became a part of my after-school TV routine. Sure, it was fun to watch, but just not quite the same.
It's also bittersweet to watch Moe appear on "The Mike Douglas Show" in the early 1970s, talking about the good ole days and even having pie fights as he continued to entertain audiences in the final years of his life.
But it's those classic 190 short films that will never be forgotten and forever cherished, ready to be enjoyed at any time — THAT's reality.


The Stooges dedicated their careers to entertaining folks young and old for as long as they possibly could. Stooge director Jules White visited a very ill Curly and recalled one of the last things Curly told him was, "Gee Jules, I guess I'll never be able to make the children laugh again." That's what the Stooges meant to him. And that's what the Stooges were all about: simply bringing joy and laughter to others. Curly passed away soon after that encounter, at the young age of 48.
Fortunately, their legacy lives on so many decades later, finding new audiences along the way. I envy anyone seeing a Stooge short for the very first time – they're in for such a fun experience and one they can pass along to someone else at some point. After all, I've heard many instances where fans talk about how they were first introduced to the Stooges by a parent and how they bonded during those times.
Now I know the Stooges' brand of humor isn't for everyone. And others might consider them old relics from a different time. In this day and age of television, there are so many other shows and "water cooler moments" to talk about. And while we're at it, some might very well enjoy shows like "Keeping Up with the Kardashians." So be it. Word is their latest show renewal contract totaled around $150 million, so they still have a sizable following! (Ratings is another story.)
My how times have changed for this nostalgic mind.
But I wonder: Years from now, will Kardashian fans feel the same way about them? How about, oh, seven DECADES from now? I think you know the answer.
I much prefer the good ole days, when you could turn on your TV at night to watch "The Tonight Show with Johnny Carson" so you can tune out all the news of the day and simply have a laugh. Unfortunately, late-night TV these days has been ruined. These days, networks have "jumped the shark" by focusing on rebooting classic TV shows — the time has come for them to give TV reboots the boot!
Meanwhile, I'm convinced The Three Stooges will continue to be studied, analyzed, and revered by future generations.
Think of it this way: Moe Howard remains a comedy icon, and he was born in 1897 — 120+ years ago! What do you think will be said (or celebrated) about Kim Kardashian 120 years after her birth? Her legacy? Her net worth? The number of selfies she took? How many Twitter followers she had?
Meh.
I'll happily choose a Stooge short vs. supposedly peering in on an artificially created, um, reality show. Whose reality are we even talking about?!
"Must-See TV" these days has mostly lost its meaning, not to mention the term reality TV. As far-fetched and absurd Stooge shorts may seem, they still feel more genuine than a lot of what we're fed on TV today. It's hard to describe, but the older some classic TV shows become, the more fresh and alive they feel when viewing them. It's just part of their magical appeal. Just like the Stooges.
BACK TO MY ORIGINAL QUESTION…
So if given the choice, would I choose The Three Stooges over the Kardashians?
My unequivocal answer: Soitenly!
I highly recommend you check out "The Three Stooges: The Ultimate Collection" DVD box set — truly, the "ultimate" DVD collection for any Three Stooges fan.
It features:
All 190 Three Stooges classic shorts!
Remastered content for the best quality picture and sound!
Select full-length movies and cartoon episodes!
Bonus shorts and other rarities!
Oh, and if you're looking for a listing of many classic TV shows available on DVD, Blu-ray, and digital, you'll want to check out this article!