Remember the classic '80s film, Mr. Mom? I loved the movie as a kid (still do) and fondly remember watching it at the theater several times (back when tickets were creeping up to a pricey, oh, $5). Who knew such a fun little film would one day have a much deeper meaning when it came to providing career advice?
If you've seen the film, the Mr. Mom quote "You're doing it wrong" likely rings a bell.
For those of you that haven't seen it, there's a scene where stay-at-home dad Jack Butler (played by Michael Keaton) drives his son to school and has to figure out the student drop-off process. Try as he might, his son keeps telling him "You're doing it wrong," and once he pulls up to the school's traffic guard, she greets him and then says, "You're doing it wrong." Here's a quick glimpse at the clip: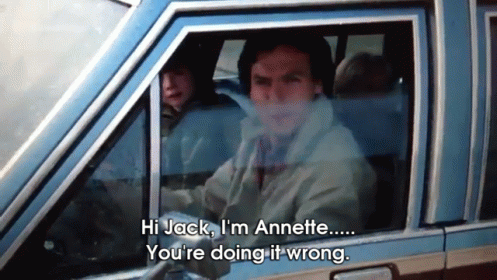 Of course, the film also has quite a few other classic scenes and memorable quotes: "220, 221, whatever it takes," "Don't paint your sister!", "I was never in aisle seven!" and who can forget Kenny's woobie, Schooner Tuna ("the tuna with a heart"), or the trauma of witnessing the possessed Mr. Mom vacuum cleaner??
But let's dig further into "You're doing it wrong," and how that quote comes into play in the workplace — it can help increase your work satisfaction AND improve your career path.
You're Hired!
When starting a new job, you're told what your day will entail, the tasks you're responsible for, and what the processes are to getting the job done. Makes sense. Otherwise, you'd be lost as a new hire trying to find your way. (Heck, I once had a boss who hired me and then went on to quit just days before my start date. The company didn't hire a replacement for MONTHS. Talk about being thrown into the deep end!)
Eventually, the time will come though when you'll hit your stride, feel more comfortable in your role, and have a good idea about your job's ins and outs.
It's at that time you should try to go beyond just "doing your job." Otherwise, true work satisfaction will always be unattainable.
Career Advice #1: Challenge the norm!
Ask yourself if you're on the right career path. Is it what you had hoped for, what you imagined when you initially accepted the job? Would it be much more rewarding if it wasn't for roadblocks that are in your way which are keeping you from doing your job the best you can?
Assess your workload. Ask yourself and others WHY things are being done in ways that don't make sense, at least not anymore. Identify the bottlenecks you're encountering and how they're holding you back from doing your job efficiently. After all, YOU know your job better than anyone else, so be confident in your ability to discover better ways to do it!
Career Advice #2: Explore A Better Way!
Analyzing your job's processes will help identify the "distractions" that are clearly wastes of time, not only for you but other members on your team, not to mention other departments you interact with.
I'm sure you can identify some bothersome work issues you're dealing with right off the top of your head. That's great! You're well on your way to finding a way to solve them!
Career Advice #3: Stick to Your Guns!
I encourage you to "think different." No, that doesn't mean buying an Apple product. But it will take time to convince others that you have a better, more efficient approach. After all, your actions might directly or indirectly affect them too.
And it can be frustrating dealing with dismissive co-workers, those who are very comfortable routinely doing the same inefficient thing over and over. These folks have simply "accepted" the way things are done, and the most effort you'll get from them is when they challenge your new ideas.
But just like the hidden gem of a song from Bon Jovi's 1988 album New Jersey goes: "Stick to Your Guns"
Based on my own personal experience, I gradually changed things up in my job – the marketing strategy for product releases, the configurations that were offered, the positioning and pricing. And it came as no surprise that my recommendations were met with reluctance from coworkers. They weren't used to trying different approaches in those areas. Their thinking was more along the lines of "why not leave well enough alone?"
Some perceived my ideas as a threat, regardless of a potentially great payoff. "New" and "fresh" were foreign concepts. As far as they were concerned, I wasn't looking to do things differently. Nope, I was simply "doing it wrong" just because I wasn't looking to do things the usual way. And that's where that infamous Mr. Mom line would once again resurface.
Ironically, little did they know they were the ones "doing it wrong" for so long.
This is also where "office politics" can rear its ugly head. There will always be some who feel threatened by you (but won't admit it) just because you're trying to come up with solutions to longstanding problems. How dare you!
Some will even look to knock you down. Because, after all, if your ideas were to work, it would shine a positive light on YOU and not THEM. Though that type of selfish thinking is completely unnecessary, it's a reality in the workplace.
Back to my point, I stuck to my guns and over time the positive results I had hoped for did indeed follow, which meant sales increased…A LOT! My "different approaches" to strategy and more streamlined processes were paying off! Not only that, the results caught the attention of others – including executive staff (funny how that happens when you can directly impact a company's bottom line).
The product releases and successes I oversaw were being sold into the country's largest retailers – Walmart, Amazon, Best Buy, Target, etc. And the icing on the cake? These retailers were telling companies that were competing against the one I worked for to follow our lead when it came to product strategy. As the saying goes, "imitation is the best form of flattery."
Career Advice #4: Make Your Job Your Own!
Don't settle, especially when you know deep down the job you're doing can be improved. Don't consider your workday a routine, allowing things to go unchallenged. Don't accept that it's just about getting a paycheck. Take note and identify problems you regularly encounter and compile a list of solutions you think will work. Test some of them out and see what becomes of them.
There's also nothing wrong with a gradual approach to reassure some doubters either. It just might take a little extra time to get them to see things your way. But it will be worth it. Remember, this is YOUR career we're talking about!
Career Advice #5: Your Efforts Will Pay Off!
In the end, if your ideas and actions produce positive results, the tide will turn in your favor. (Ever watch "WKRP in Cincinnati"? Check out what a difference character Andy Travis made to that workplace!)
Not only will it improve your job satisfaction, but your contributions will also be recognized by upper management.
YOU will start building a track record (aka reputation) of being innovative and coming up with solutions to improve things. Others will look to YOU and your leadership to problem-solve future issues…you know, ones where people might be "doing it wrong." And soon enough it will be YOU motivating others with your solutions, success stories, and career advice.
Michael Keaton's character's response after being told he was doing it wrong was, "Don't tell me I'm doing it wrong. I know how to do this." That's the kind of confident mindset you'll need to succeed, at least to this nostalgic mind.
No matter what, don't give up.
Improve Your Career Path Starting Today!
Start helping yourself TODAY by taking small, simple steps.
It can feel overwhelming — even hopeless — when you don't know where to begin.
Here's a great first step to improve your personal and/or career outlook…
Start by taking an inexpensive online career development course of YOUR choosing to:
Strengthen the skills you feel need improving
Educate and enlighten yourself about other job fields that interest you
Improve your career outlook by learning more about your strengths…and weaknesses.
Here are just a few reasons why this will benefit you:
YOU are giving yourself a chance to expand your career horizons and finding new areas of interest. (Example: You don't like your job (or industry you're in) and want out…but still aren't sure what you want to do.)
YOU are arming yourself with new knowledge that can help you attain your dream job — whatever it may be. (Example: You are in search of a new career, but at a disadvantage, because you don't have a lot of experience in that new field…yet.)
YOU are showing future employers that you're driven and making the effort to improve your career growth yourself. (Example: You're in a job situation where you feel helpless, but that's not stopping you — you are taking the initiative to change that.)
The wonderful thing is YOU get to choose your path based on what interests you!
And there are SO MANY options — all you need to decide.
General online courses that might benefit you and help improve your skills:
Online courses in more specific areas — whether it's something you're already doing and want to improve on (i.e. get ahead of your coworkers), or are simply considering for a career change:
Want to expand your horizons and try something new?
Maybe go into business for yourself? You can take that first step today!
Not sure where to begin?
There are over 80,000 online courses you can take advantage of! THOUSANDS of people have taken these courses to educate themselves, improve their careers and their overall personal development…why not you?)
Collectively, these small steps will help put you on the right path and enlighten you on your quest.
Speaking of Mr. Mom…
It wasn't until years after seeing the film that I realized it was written by John Hughes – how cool is that!
By the way, one scene in the movie still baffles me: While he's waiting for his babysitter to arrive, Michael Keaton shouts out, "Ken, is she here?" The line is SO echoey and such a blatant overdub that I could never figure out why they didn't correct it in post-production.
But hey, who am I to say "You're doing it wrong"?
Oh, and if you love classic TV as much as you love classic films like Mr. Mom, you should check out this post about what "must-see TV" really means! And if you were a big fan of "The Tonight Show with Johnny Carson," and miss the good ole days when late-night TV was actually fun to watch, you won't want to miss this in-depth post.